Week 4 on my MA is about strategies of freedom, moreover about creating an image without using a camera. As a starter, we were asked to find a photograph that had not been taken by a human.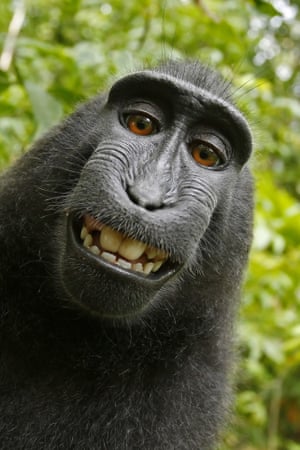 This picture was taken by a monkey using a photographers camera. The photographer David Slater (Associated Press, 2016), claimed he set up the image on a tripod and just allowed the monkey to press the button, but animal rights groups claimed that British copyright laws should be applied and the monkey should have full rights and proceeds to the photograph.  This does raise the question of who owns a photograph taken by none humans or indirectly taken photos from security webcams and the like.
I also think it could be said photographs that were taken by automated webcams or more generally computers are in fact programmed coded and engineered by humans, so the act of coding or engineering some machine or device to show some kind of image is the intended outcome even if the engineer or programmer or engineer may not see the output. We take it for granted that all the science and engineering that goes into these images is something a lot of photographers could probably never do.
What are the ethical boundaries in the context of photography and data privacy and data protection? Surveillance cameras have inspired the rise of some surveillance Art projects such as these at
 https://creators.vice.com/en_uk/topic/surveillance-art?topic_id=57c4a095b138f56479a720cbLinks to an external site.
After I posted the image of the monkey some of my peers and teachers made some comments.
Tutor 1 response to my posting
Apart from an ownership perspective Paul, how would this image function as contemporary photography? Have a look at my entry for an interesting conceptualization of this idea of animals and photography. 
My response to Tutor 1
The final activity of the week was to come up with a way to produce an image without the camera. I was talking with my Module Tutor and he suggested I tried something like using the hair from the barber's floor and tools to produce an image. I remembered looking at my peer's work of photograms and how objects were placed to produce an image, so I thought I would give it a try.
The title of this work I will call Barbershop Tool Bar mini-series. Having taken some black & white photos with a somewhat unfamiliar Rolleiflex 1950-60 and Yashica D camera of some barber shops and some of the external environments this week. This helped me prepare for this week's activity.
The photo was taken by Paul Peach outside a small barber shop salon in Prince Edward Hong Kong
I decided as part of this weeks work I wanted to produce something that reflected aspects of Barbershop tools and the culture of Hong Kong barbers and to incorporate some historical aspects of barbering using cutouts of scanned images from barbershop antique books I have been looking at recently.
In addition, I used real cleanly cut hair and existing barber shop tools used in today's modern barber shops. I produced five Photograms using Ilford photographic paper exposing the varies items to reflect some barbershop tool themes with the items I arranged in 5 cardboard trays.
I left them for about 4 hours of combined daylight and lamp lights to expose the film. The results were scanned and converted into tiff files ready to edit into a Topaz Studio software.  I customized a new preset of my own after trying varies adjustments in black and white and some minor effects to bring out the glow of the barbershop tools and artefacts.
Comments from my Peers
Peer 1 comment
This is absolutely amazing! Love the result! Very… surreal I'd say. You used various techniques and the result is super interesting. Would you consider to proceed on this path, too, in the future?
My response to Peer 1
Thanks for your kind comments. And yes I will be using more of this type of creativity in my work, I have been holding back my creative side deliberately in the first couple of modules to some degree to allow my self to better understand photography and its limitations in today's world and the limitations on our own personal resources  , and what I need to do before I expand on these sort of ideas. And why and the direction I'm going into. Anyway still a lot to learn
Peer 2 comment
My response to Peer 3
Thanks for your kind comments also, and yes its true sometimes I work better under pressure. After 3 days searching all over HK( I can't always call direct as my Cantonese is not so good) and many different photo labs in the pouring rain this week, I finally found one that sold photographic paper in time for the activity lol, no sunshine yesterday also just managed to get some development in the paper for me to work with, so after all the trouble I had to do something worthwhile. I did not want to use chemicals, not so practical in my home.
thanks
Paul
Peer 4 comment
These are so cool – I love them.  I like that the images display both randomness and order at the same time.  Great job – I look forward to seeing more 🙂
My response to Peer 4
Thanks for your kind comments
Peer 5 comment
Wow, I seriously love these. Like Dayana said they're really surreal looking. I like the ingenuity you used with the hair and making the outline of the tools shine. I think this really brings a different aspect of your work that we haven't seen before. Good work!
My response to peer 5
Have to give credit where due, My module Tutor did lead me to this idea to some degree. At the time I was not sure it would work so I went for it and added my own things also to bring more depth to it.
Peer 6 comment
Fantastic – a great interpretation. Do more:-)
My response to peer 6
Thank you
Peer 6 comment
These images are really pleasing – it makes me want to try this type of method! I was planning to do some pinhole photography but didn't have time to order everything I would need.
My response to peer 6
Thank you, It was worth the effort in the end.
For me this work was a turning point in my work, I could finally show my creativity, as I mentioned in week 2 to my tutors and peers I wanted to bring my work to a new level, which I think I have finally, although this is more of a new strand to my work I will try to incorporate more of this type of work in future.